Closing Ranger: Protecting Kakadu. A critique of the Ranger Mine Closure Plan
Authors: Pepper. M, Dr Lawrence. R, Sweeney. D, Assoc. Prof Mudd. G, Howey. K & Tutty. J. (2020)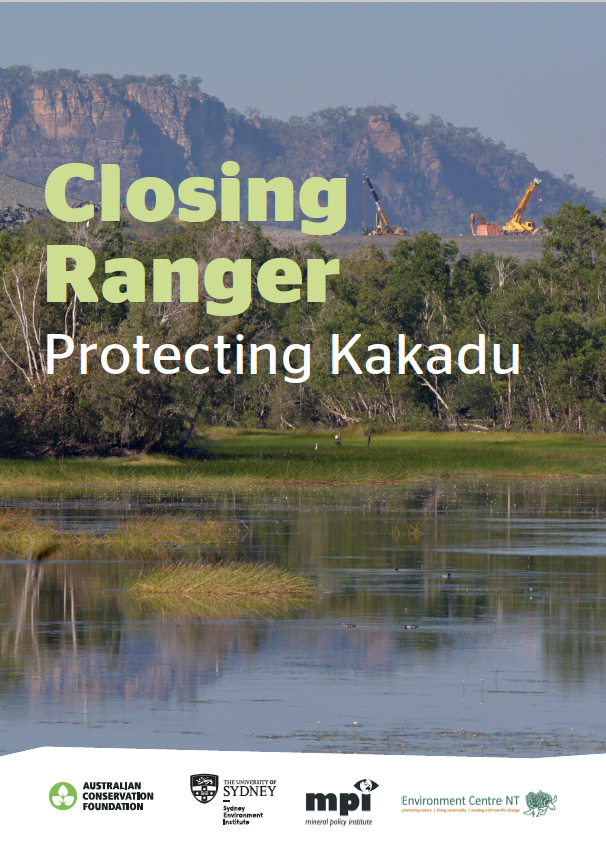 Intro: Our joint review of the 2020 Ranger Mine Closure Plan (RMCP) identifies some key issues and barriers to achieving the environmental requirements and objectives at Ranger. In raising these issues we seek to improve the prospects for achieving a rehabilitated Ranger site that can be incorporated into Kakadu National Park. Efforts to meet this obligation and objective are currently being hindered by:
an unrealistic mandated rehabilitation timeframe
information and data deficiencies and continuing technical uncertainties
persistent technical challenges relating to groundwater and tailings management
a lack of remediation planning and the unexplained de-prioritisation of rehabilitating the large and long-lived radioactive tailings plume beneath the site
a proposal to leave the floor of the tailings dam in situ, risking contaminants entering Kakadu
inadequate contingency planning and a lack of consideration of climate change impacts and scenarios
an absence of social impact analysis and engagement
a lack of clarity around the post-closure regulatory framework and the oversight and accountability needed to ensure compliance with the RMCP and closure criteria
uncertainty over the adequacy of current and future financing – especially in relation to post- closure site monitoring and mitigation works
lack of clarity on the United Nations Educational, Scientific and Cultural Organisation's (UNESCO) World Heritage Committee standards for incorporation of the remediated Ranger site into Kakadu National Park
a lack of transparency around the status and process for assessing the separate stand-alone applications for significant aspects of the rehabilitation work.
---
Environmental Impact Assessment Submission: Rum Jungle Rehabilitation
Authors: Assoc. Prof Mudd. G, Pepper. M, Sweeney. D & Molloy. S. (2020)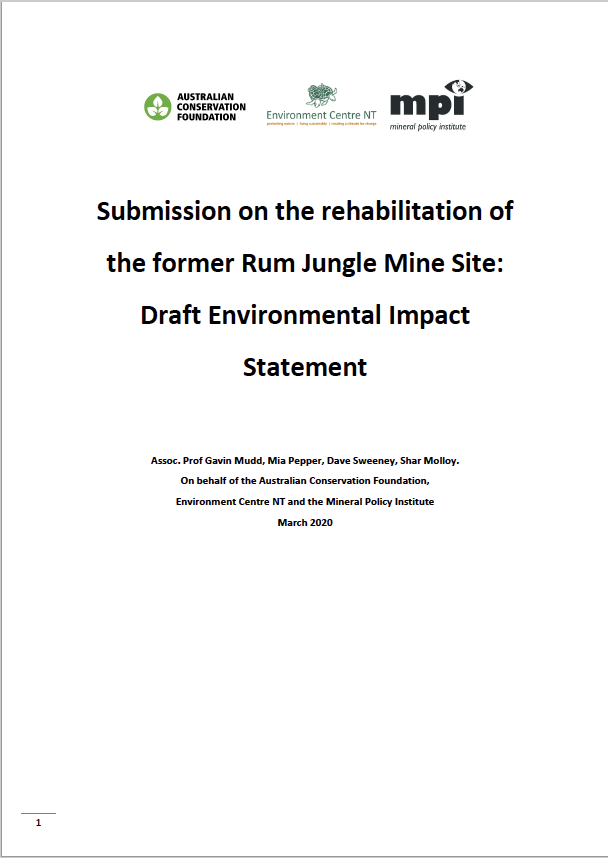 Intro: This submission was made the NT Environmental Protection Agency in response to the Environmental Impact Statement prepared by the Department of Primary Industry and Resources who now has responsibility for the abandoned site. The Environment Centre NT (ECNT), the Australian Conservation Foundation (ACF) and the Mineral Policy Institute (MPI) welcome the current moves to address unresolved rehabilitation concerns at Rum Jungle. Previous rehabilitation and remediation efforts at the former Rio Tinto operation have failed and there is a compelling need for renewed efforts to reduce the continuing adverse impacts of earlier mining activity.
---
Ground Truths: Taking Responsibility for Australia's Mining Legacies
Authors: Roche, C & Judd, S (2016)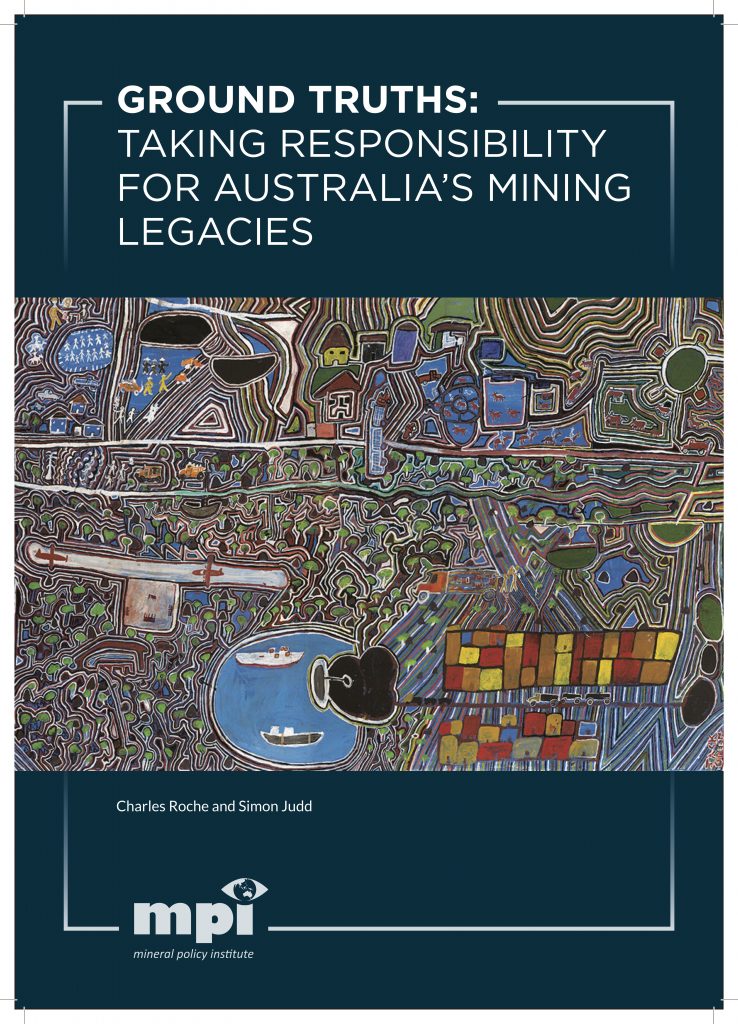 Intro:This report sets out to explain some of the current and potential impacts of Australia's mining legacies to Australians. The aim was to bring the reality of mining legacies, often hidden by geographical remoteness or simply by fences, out into the open. Using examples and case studies to illustrate what mining legacies mean for people and place, we reported on research, events and key documents, collectively demonstrating the need for reform of policy, regulation and practice in Australia.The dichotomy between successful mine closure or enduring mining legacies is clear. Closure is the responsible approach. Successful closure is where the polluter pays for and undertakes effective rehabilitation with criteria set by existing land use, community expectations and government regulation.
Mining legacies are the opposite, the growing shame of industry and community where this generation carelessly takes without thought for the planet or future generations. Recent regulatory changes in Western Australia, Queensland and the Northern Territory, and the findings of the Hazelwood Inquiry all provide further evidence to show that closure reform is clearly needed. The transition to successful mine closure demands coordinated action, a requirement that has been stated frequently and emphatically for more than a decade. The way forward is for states to implement locally specific rules within a national framework; where risks are acknowledged, impacts reduced and closure and management activities covered by adequate and secure financial instruments. Encouraged and guided by these changes, the mining industry can then improve on current practices, address the mistakes of the past and ultimately leave a positive legacy.
---
Mining Legacies – Underestimating Life-of-Mine Across Time and Space
Authors: Pepper., Roche., C., Mudd, G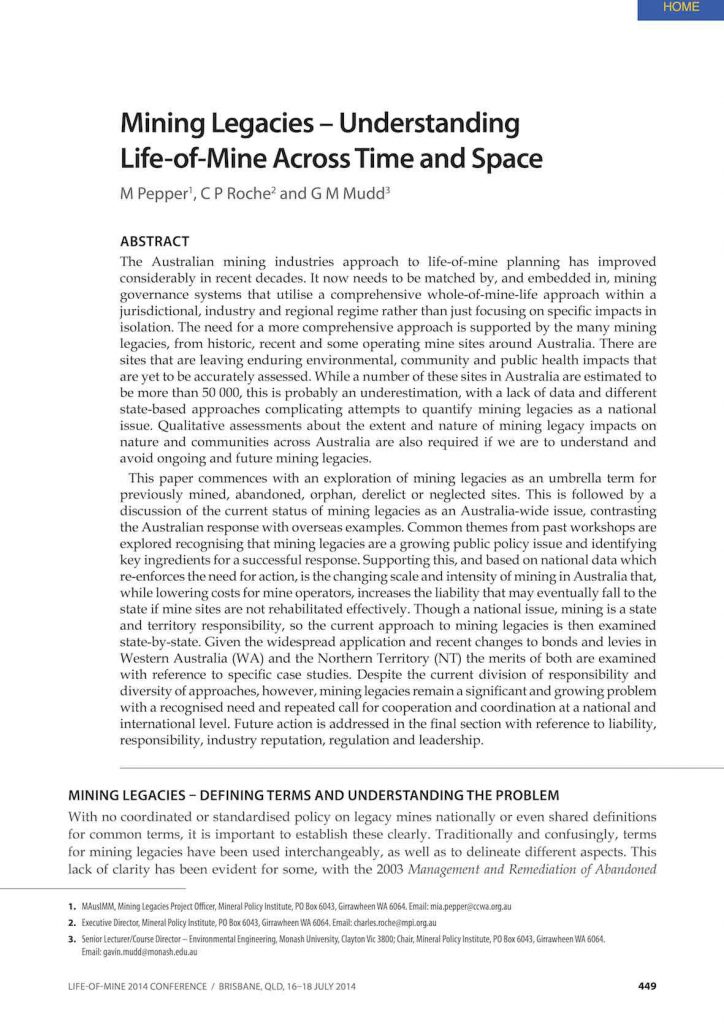 Abstract:The Australian mining industries approach to life-of-mine planning has improved considerably in recent decades. It now needs to be matched by, and embedded in, mining governance systems that utilise a comprehensive whole-of-mine-life approach within a isolation. The need for a more comprehensive approach is supported by the many mining legacies, from historic, recent and some operating mine sites around Australia. There are sites that are leaving enduring environmental, community and public health impacts that are yet to be accurately assessed. While a number of these sites in Australia are estimated to be more than 50 000, this is probably an underestimation, with a lack of data and different state-based approaches complicating attempts to quantify mining legacies as a national issue. Qualitative assessments about the extent and nature of mining legacy impacts on nature and communities across Australia are also required if we are to understand and avoid ongoing and future mining legacies.